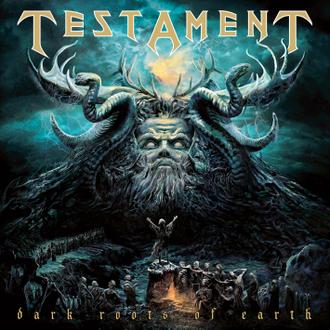 I'm not gonna hold any cards close to my chest here. Testament are my favourite Thrash Metal band. From Practice What You Preach up until their newest release, Dark Roots of Earth I've loved this band. They've written so many incredible tunes throughout their long and successful career and always have had fairly consistent albums. For my tastes everything about the band tops and eclipses other acts within the genre. Nobody can jump in and out of soft melodic vocals over ballads to death growls and grunts to thrashy rough edged vocals like Chuck Billy. Eric Peterson has always written massively hooky, driving, galloping riffs that crush and Alex Skolnick needs no introduction. He's one of the most talented musicians in the scene and his solos are always the absolute highlight of the Testament albums he's participated in. Testament have always been a revolving door of drummers and I don't feel any drummer is better than the next. Records featuring the Atomic Clock Gene Hoglan are always good, but it's a shame he's not allowed to "play" the drums. It couldn't hurt to have a drummer of his skill be allowed free reign and interpretation of Eric Peterson's riffs. It would add a lot more to the band and help differentiate one album from the next. But enough of that, let's get to the task at hand and discuss their latest offering.
The first thing I noticed about DROE was the main riff following the intro to Rise Up. It was hooky as hell and trademark Testament. That riff set the tone for the rest of the album and while I don't think it has as many crushing, hooky riffs as their last album Formation of Damnation, it's got plenty. That's pretty much my stance on the new album at this point. It's a good quality metal album, but hasn't reached the peaks of it's predecessors like The Gathering and Formation of Damnation before it. Being a guitarist myself I'm always focused on the riffs, leads and the bass and drum parts adding to the whole groove and power of the riffs driving the songs, and lots of the riffs on this albums just don't bring it in usual Testament fashion. I'm not sure where the band is at currently, but it seems that there has been a shift towards more anthems, chanting choruses and song structures, rather than the straight forward aggressive crushing tunes I've grown accustomed to. I've never been a big fan of these anthems. The chanting type of tunes backed by a boom chic boom chic beat and there are quite a few songs here featuring these.
There are many cool parts on the album to offset these points of disappointment however. Chuck Billy's vocals are top notch as always and Alex Skolnick's solos are again the highlight of the album. There is a lot of material on this album featuring a bunch of cover songs, the best of them being Iron Maiden's Powerslave. All in all Dark Roots of the Earth is a solid album and one that definitely deserves a 7/10. It's got the Testament staples that I love. It's got perfectly composed, melodic and shredding solos, thundering drums and bass lines, chunky grooves and traditional killer bridge riffs that are the highlights. Yet it also has some bland riffs and choruses that seem rushed as opposed to their usual meticulous hooks and power. It's close to the mark, but not quite there.