The Story: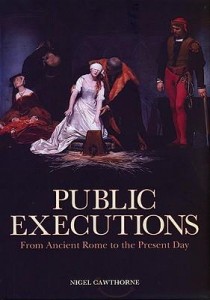 A look at some of the most famous true stories behind the most notorious execution methods in history, right through to present day. Not just focusing on the executions themselves, the book also goes into detail involving the preparation or torture involved leading up to the last moments of a prisoners life.
The Characters:
The characters in this story are ones you have probably heard of, but might not know all the details behind they're sentencing, and eventual demise. Three major ones I can remember in the book would be Marie Antoinette, Joan of Arc, and the notorious Caligula.
Effects/Gore:
It was shocking to learn how cheap life was at one time, and how sadistic society once was. I'm always interested in learning how much religion has hurt humanity throughout history, and this provided me with enough ammunition to win any future argument. The book was a great guide to the most famous execution methods throughout the world in all cultures including beheading, crucifixion, the wheel, the death of a thousand cuts, and the guillotine to name a few. Most importantly some methods described not only sound painful, but will also leave some readers nauseous.
Lasting Appeal:
Public Executions will not be for everyone. What I was expecting to be a capsule of detailed information in the methods of all forms of execution ends up being a more thorough study of events taking place in history. Some of the stories are not surprisingly very similar in each chapter making it feel like you've read the same paragraph over and over. I also found myself back pedaling throughout and getting frustrated near the end of most stories trying to figure out what the crime was that caused the sentencing in the first place. Almost everything was supported with actual historical accounts by a witness in attendance which was interesting, but sometimes it was hard to follow the traditional Old English.
Final Headcount:
I think it could have been written a little more clearly rather than jumping all over the place within each story like it did. I found it best for bathroom and bus reading , it just was way too much information to take in with a few sittings. Overall however it was a great source of information, that was mostly entertaining, and sometimes more shocking than I could have imagined!