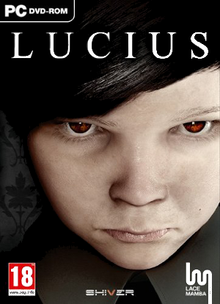 When I first read about this game, I was really excited to play it. The concept is something that does not come along very often. It's gameplay is great, the sets and layout is very open. The story and execution is not the greatest, but passable. The idea even sounds pretty damn cool. You're the son of Lucifer, you were born on dates that coincide with 666, and on the evening of your sixth birthday you murder the maid by locking her in the walk in freezer. That night your real father Lucifer reveals himself to you, and says you must kill the people on the list he gives you so he can harvest their souls. All the deaths are supposed to look like accidents so no one can suspect you, there is also the option to do chores for people to gain their trust. It is a wicked idea for a game, and in the 2 hours I have played, I am looking forward to playing more.
The more successful murders you commit, the quicker you unlock your supernatural powers. The first is telekinesis, and that can be used to move objects or break them in order to carry out the murders without looking like you are. It sounds twisted, I know, playing as a six year old son of Satan. It is almost exactly the plot of The Omen, except for a few details. As for the gameplay, the graphics are pretty good, especially if you are playing on a fast computer. My laptop could handle medium graphics and full screen details, which makes for decent speed but a little bit of choppy cut scenes. The voice acting is not so bad, but could have been better. Lucifer is by far the best voice acted character, he arrives to you at night with fire coming from the windows and darkness around him which kicks some ass. The atmosphere can be pretty creepy, big mansion late at night with lightening filling the house, putting you right into the shoes of this six year old boy going about the business of his father. Being around crosses will lower your health bar until you are away from them, which is a nice touch. One thing that is some what annoying is that the characters keep repeating their lines while your trying to figure out what to do next.
I can see some controversy arising from this game, not as much as maybe manhunt which was pretty violent for a video game. For this game, it would be for putting the murderer as a six year old child. Your character shows no mercy, no guilt as I have see so far, he is just an ice cold child with an emotionless face. The game shows promise for innovation in story, and concept, I would recommend it for people who are fans of The Omen, it's like playing as Damien. If you like fast paced, violent games, I am not sure this game would be for you. This game seems to be more of a puzzle game, taking all the steps to carry out the murders without being caught. Here is hoping the rest of the game is as good.